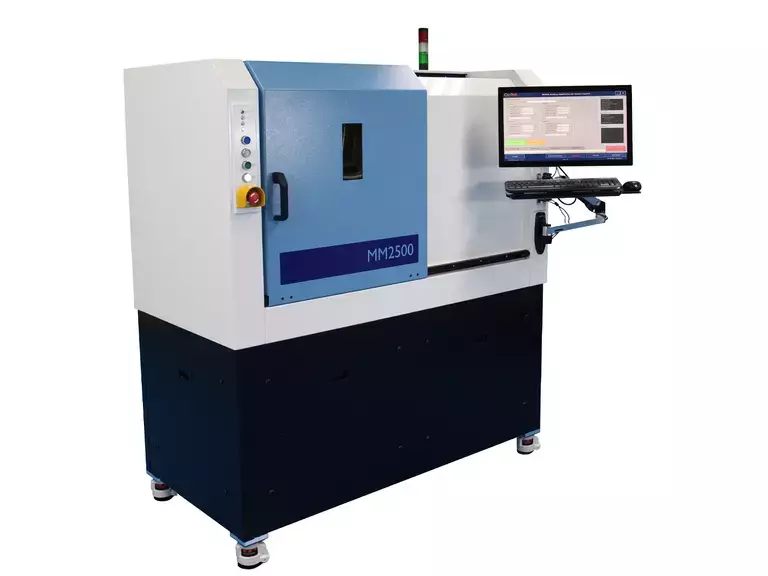 MM-2500 QCW
The OpTek MM2500 QCW 3-axis system is designed for ease of use and flexibility in a cost-effective micro-machining platform.
With an integrated QCW laser and gas assist head, this system excels in precision cutting, drilling, and scribing of most metals and ceramics up to 2mm thickness. The fiber laser source in the MM2500 QCW is ideally suited to spot welding, seam welding and micro-welding applications with tailored pulse durations of up to 50ms. The high peak power and repetition rate not only cut with minimal heat affected zone, but also allow for high throughput in a manufacturing environment. High-precision motion and user-friendly interface provide versatility and make this an optimal choice for R&D and production in medical device, new energy and electronics applications.
The OpTek MM2500 QCW machining system comes standard with a 1070nm 150W single- or multi-mode laser, integrated welding head or gas-assist cutting head, X-Y linear stage for direct-write operation, Z-stage for focus adjustment, and a granite gantry for superior stability. This unit can be upgraded with an additional axis for rotational functionality, height sensor, and manual or automatic vision systems. Higher power lasers are also available. Optionally, the MM2500 QCW can be linked to factory automation and data systems.
Applications: Single and mutlimode versions available for machining of most metals and ceramics as well as laser welding.
For more information about laser micromachining or to discuss solutions for your specific needs contact OpTek directly.
Specifications

Key Features

• Accurate and repeatable feature positioning
• Small Kerf width (50μm typical)
• Versatile - Can cut and drill a variety of metals and ceramics
• Low burr and HAZ on cut edges
• Granite gantry for increased stability
• Ideal laser source for spot welding, seam welding and microwelding

Product Specifications

| | | |
| --- | --- | --- |
| Size (WxDxH) | 1600.0 x 850.0 x 1750.0 mm | 63.0 x 33.5 x 68.9 in |
| Weight | 250 kg | 551.2 lb |
| Typical Applications | Medical Device Cutting, New Energy & Electronics | |
| Mode of Operation (single-mode available) | Pulsed/CW | |
| Wavelength, nm | 1070 ±5 | |
| Average Power, W | 150W (higher power options available) | |
| Peak Power, W | 1500 | |
| Pulse Duration, ms | 0.05-50 | |
| Electrical Supply, V | 120/230 | |
| Cooling | Air cooled | |
| Vision | Integrated viewing camera | |
| Gantry | Granite | |
| Spot size, μm | Down to 50 | |
| Travel X/Y, mm | 200 | |
| Travel Z, mm | 50 | |
| Accuracy, μm | ±8 | |
| Repeatability, μm | ±0.5 | |
| Options | Rotary (4th) axis / automated vision alignment / factory automation system integration / higher powers / process development / custom software / extraction / custom tooling | |
| | UKCA marked and UL compliant | |